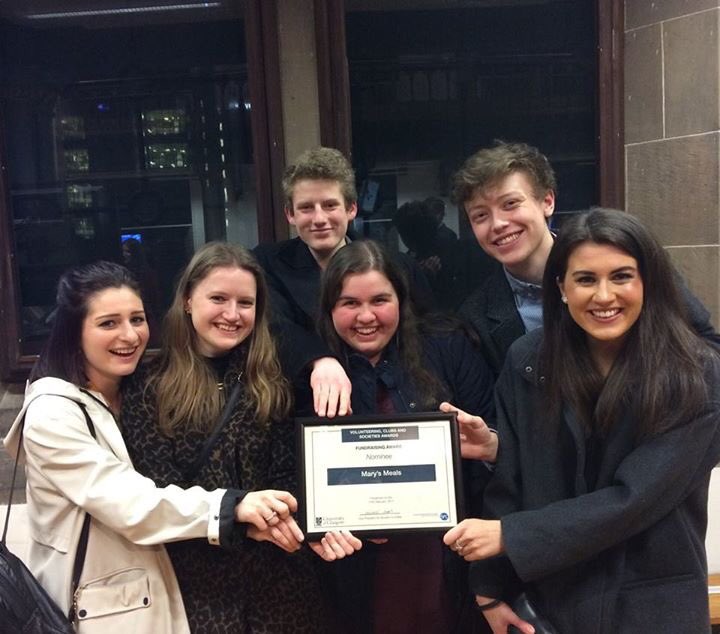 Glasgow University Mary's Meals were honoured and delighted to have been recognised at last night's Volunteering, Clubs and Societies Awards ceremony! Having been nominated by students, GUMM were shortlisted as one of the Fundraisers of the Year, and we were in good company alongside supporters of Anthony Nolan's work in blood cancer, and Languages for Water who work in support of WaterAid.
While we didn't come out on top on the night, it was an amazing chance to get to know some other charities on campus and we'd like to congratulate all the deserving winners on the night, especially the incredibly dedicated students at Languages for Water who won in our category. A special thanks must go to the amazing Erasmus Students Network who generously split their prize money between ourselves at GUMM and Coppafeel, who work to raise awareness of breast cancer. Thank you!
The awards ceremony was a great opportunity to see all the incredible work that goes on from all the clubs and charities across campus. With over 300 societies at Glasgow Uni, it is amazing to have our work recognised and to make it into the top three fundraising societies is unbelievable, especially with GUMM being made up of a relatively small, but incredibly dedicated, group of students. Both at GUMM and throughout the Mary's Meals movement, we pride ourselves on the high-impact nature of our work, and the simplicity and effectiveness of our mission where we work tirelessly to end poverty, one bowl of porridge at a time. It's truly a privilege to be part of the Mary's Meals movement – meeting up once a week, baking a cake and manning a stall is a tiny sacrifice to make when the promise of a daily meal in a place of education can change a child's whole life, and we would love to bring as many people as we can along with us on this mission.